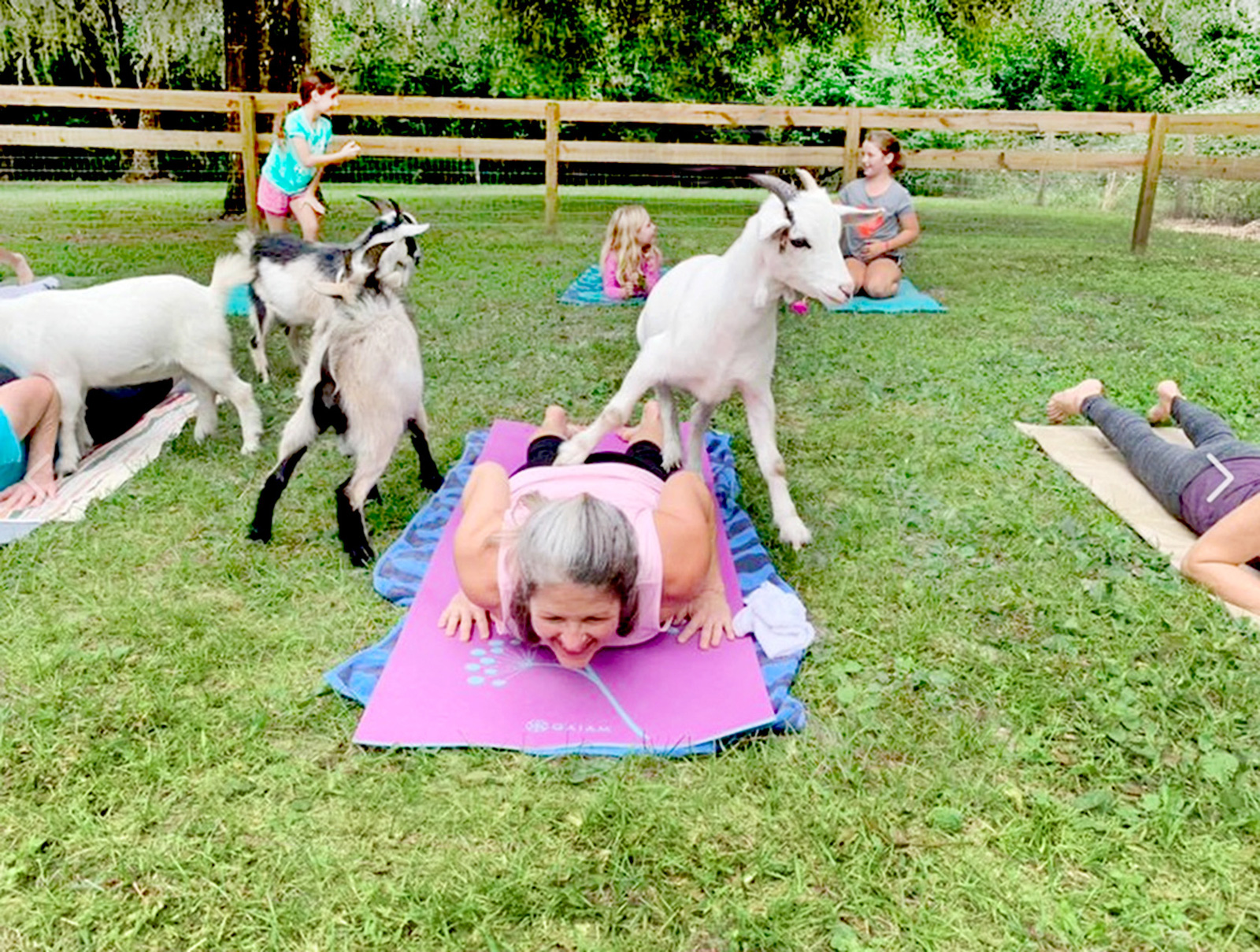 WHAT IS GOAT YOGA?
Goat Yoga is a fitness craze spreading like wildfire across the nation.
Goat Yoga originated at a farm in Oregon, where there is always a waiting list hundreds of people long. Farm animal yoga quickly spread to become a huge growing trend especially in big cities across the country where people yearn to get out of town and spend time with nature and with animals. Plus, it is just  therapeutic to spend some time on a beautiful farm, in th open air, with amazing little creatures, away from the stresses of everyday life.
A yoga instructor leads a yoga class, as usual, except in an enclosed outdoor area that is shared with a number of adorable baby goats—or playful little adult goats of certain dwarf varieties—which all have free reign to participate in the class however they see fit!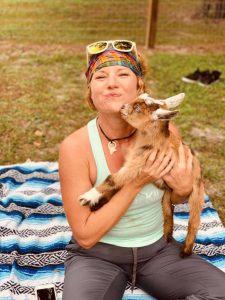 Sometimes the friendly little goats just roam around as your instructor takes your class through a yoga flow. Sometimes they come up to you, and sniff you, and begin to nuzzle you. Sometimes they will choose to jump up on you. They particularly like to stand on you during key yoga poses such as plank, down dog, upward dog, child's pose, boat pose, bridge, and wheel. They also like to go under you during your down dog, and through your legs during warrior, and other standing poses.
They might walk up and stare into your soul, burp in your ear, or give you a goat hug which, by the way, is a very special thing. Often, they will just lay down on your mat and snuggle up next to you.
Yogis also like to hold the little critters at times, or reach out and touch them or tickle them as they stroll by.
There are usually goat attendants which hand feed the goats to keep them  from chewing on your shoelaces, bag handles, your mat, or even the occasional pony tail. The attendants also clean up anything that the little cuties might drop on your mat.
Goat Yoga is not a traditional yoga experience, but it is certainly one that will put you in a good mood. It is hard not to giggle when a cute baby goat decides that he wants your attention. It's a distraction, but it's a happy distraction that cannot be ignored! And a goat yoga class is one that you will not soon forget.
Patty's Parrot Palace, a farm and tropical bird sanctuary, provides Goat Yoga classes for Volusia County, Orange County, and Seminole County, including Daytona Beach, DeLand, Deltona, Heathrow, Longwood, Orange City, Orlando, Port Orange, Lake Mary, Sanford, Winter Park, and just about anywhere else!